2017 MX-5 RF pre-sale starts for Mazda's most loyal customers
September 19 2016,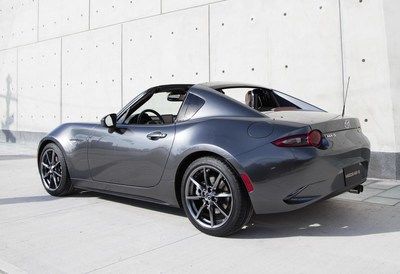 RICHMOND HILL, ON, Sept. 19, 2016 /CNW/ - An MX-5 like never before, the new 2017 MX-5 RF (retractable fastback) stunned the world with its revolutionary and breathtaking design when it debuted at the New York International Auto Show earlier this year. With a new fastback-style retractable hardtop, the MX-5 RF brings a new level of sophistication and open-air appeal to the best-selling roadster of all time.
Now, this car is set to take roadster fans on a new chapter, with the opportunity to pre-order one of the first cars in Canada starting today. Mazda Canada will invite a select group of loyal Mazda customers to secure their order by sending them a unique PIN code via email. This special code will give them access to the pre-order website and allow them to build and order their own MX-5 RF to their unique specifications, one week before the pre-order site opens up to the general public.
"With the new MX-5 retractable fastback, we want to bring the joy of open-top driving to even more people; those people who value the security and design of a fixed-top coupe, but still want the opportunity to drive with the wind in their hair," said Vincent Reboul, Director, Marketing, Mazda Canada. "This exclusive pre-order offer will allow fifty Canadians to be among the first in the world to share in the excitement of this brand new version of the MX-5."